Amtrak Empire Builder Relaunch
Sunday, August 21, 2005
www.trainweb.com/routes/route_07/relaunch05.html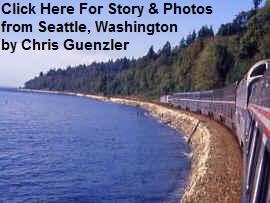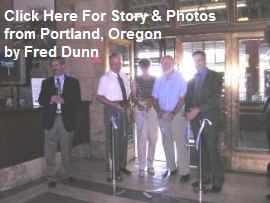 Sunday, August 21, 2005
Amtrak relaunched the upgraded Empire Builder Service on Sunday, August 21, 2005. Celebrations were held in Portland, Oregon and in Seattle, Washington simultaneously on Sunday afternoon prior to the departure of the two segments of the eastbound Empire Builder from Portland and Seattle. On the same day, a celebration took place in Chicago just prior to the departure of the Sunday westbound Empire Builder. On Monday, additional celebrations were held in Whitefish, Montana and Minot, North Dakota.
Below you will find links to photos and reports covering the Portland-Oregon, Seattle-Washington, and Whitefish-Montana, celebrations. Further down this page links are posted for the trip reports and photos by our correspondents from rail travel on the Amtrak Coast Starlight to the Portland and Seattle events.
Visit our Rail Magazine promotion trading partners:
Click here to add your print rail magazine.