Metrolink Travel To Lancaster
Friday, December 26, 1997

Note: This rail travelogue was accidentally deleted and lost for many years. We managed to recover it in late 2010 from archives and re-post it to TrainWeb.com. These are some of my earliest rail travels and travel writings. My experience and understanding of Amtrak and other rail operations was quite a bit less than today and my writing style may have been a bit less experienced back then. So please pardon any problems that you might find in these earlier rail travel reports. A number of these earlier reports also have few or no photos or very small photos which was intentional to reduce download time during the early days of the web when almost everyone had slow dial-up connections to the internet!
Photographs of the new decor in some Metrolink trains and photographs of the new Traxx restaurant in Los Angeles Union Station (LAUS).
Click on any photo on this page for a larger image.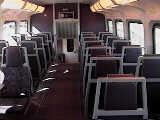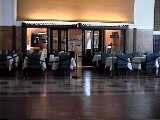 There isn't much of a description of the travel here. This wasn't the most exciting train route, but I had never taken it before. The Saturday train doesn't have very good turn-around times. On Saturday, you would arrive in Lancaster in the morning and then have to hang around in Lancaster until the late afternoon for the return train. On weekdays, you can just stay on the train as it leaves Lancaster about 10 minutes after its arrival!
I took one of my daughters on this trip on the Friday between Christmas day and Saturday. It was an excellent day for railfan trips. Since it was a normal weekday, the trains ran on the normal weekday schedule. But, since it was the day between Christmas and Saturday, there were hardly any commuters on the train. Thus, there were a number of people, especially Dads with their kids, that just rode up to Lancaster and back without even getting off the train!
For most of the trip, the view out the window looked much like the desert portions of the western section of the Sunset Limited. There wasn't much to see out the window other than a lot of scrub brush. I played card games with my daughter most of the way.
Below you will find a few photos from that trip:
I was a bit disappointed that it didn't turn out to be a Metropolitan Lounge that was being built in Los Angeles Union Station (LAUS). Instead, it was a "Traxx Restaurant." You will find "Traxx" in two places in LAUS. One appears to just be a bar that serves alcoholic drinks. The other is a fancy sit down restaurant. I think an Amtrak Metropolitan Lounge is needed more in LAUS and would have been more appreciated than another restaurant near the station, especially a restaurant this fancy. If you want a quick bite, the Union Bagel Shop is the only place for that right in the station now, which fortunately does have pretty good bagel sandwiches!
There is quite a number of Sleeping Car First Class passengers on the Coast Starlight, the Sunset Limited, the Southwest Chief, and soon the Thru-Train Texas Eagle, that start their journeys at LAUS. There are many passengers that also transfer between these trains in LAUS and a tremendous number of passengers that transfer between the Amtrak San Diegans and these trains in LAUS. A First Class Metropolitan Lounge like they have in New York, Philadelphia, Washington-DC, Portland-OR, and Chicago is just as needed in LAUS as it is in any of these other citiies. The area occupied by Traxx would have been an ideal location for a Metropolitan Lounge for the Los Angeles Union Station.
The above is a totally new decor and layout for the Metrolink commuter cars. Each seat has soft padding with a patterned fabric cover. The impression is of much greater luxury and comfort than the other monotone Metrolink commuter cars. The seats were also configured differently. Prior Metrolink commuter cars had most seats arranged in groups of 4 with 2 pairs of seats facing each other. The seat pairs were placed very close to each other making it difficult for 4 people to actually fit into the groups of 4 seats. Quite often, these groups of 4 seats would only hold 2, or at best, 3 people unless they were all quite familiar. Otherwise, the people had to pretty much interleave their knees to all fit! These new cars had most of the seats facing in the same direction. Personally, I prefer seats like that. I really don't like being forced to sit in seats and stare at strangers for my whole trip, and I certainly don't like interleaving my knees with them!
My first impression of this new seating arrangement and decor was that Metrolink is going the extra mile to make sure its customers don't feel like they are being treated like cattle. Both the fabric design, the color scheme of the interior, and facing most of the seats in the same direction show that Metrolink values its customers and wants to attract and keep more of them! In summary, the new interiors are a definite improvement over the old.
Visit our Rail Magazine promotion trading partners:
Click here to add your print rail magazine.